Welcome to the Ultimate Linux Magazine Archive!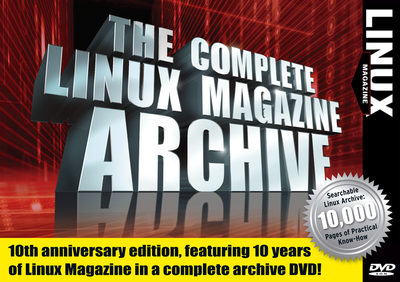 10,000 pages of practical know-how!
For 10 years, Linux Magazine has specialized in smart insightful articles on open source tools and real-world Linux. We've charted the history of Linux from an obscure hacker's system to a mainstream OS that is friendly enough for beginners and stable enough for the corporate desktop. To celebrate our 10-year anniversary, we have bundled all our past issues on this single, searchable DVD.
The Ultimate Linux Magazine Archive includes all the technical heavy lifting you've come to expect from us. Look for all the issues you missed on the newsstand. Through the years, we have covered a vast number of the most critical open source tools. With Linux Magazine, you won't just learn to install an Apache web server; you'll learn advanced techniques for securing your web presence, as well as performance tuning tips for a faster and more efficient web service. You'll also find all the best work of your favorite Linux Magazine columnists. Improve your scripting with Perlmeister Mike Schilli. Search for answers to your configuration questions through 59 installments of Ask Klaus.
If you love Linux, and you read Linux Magazine, you'll love this DVD.
There are two Archives on this DVD: