In PL/SQL Release 2.3, available with the release of Oracle Server Release 7.3, you can create and use cursor variables. Unlike an explicit cursor, which names the PL/SQL work area for the result set, a cursor variable is instead a (Release 2.3) reference to that work area. Explicit and implicit cursors are both static in that they are tied to specific queries. The cursor variable can be opened for any query, even different queries within a single program execution.
The most important benefit of the cursor variable is that it provides a mechanism for passing results of queries (the rows returned by fetches against a cursor) between different PL/SQL programs -- even between client and server PL/SQL programs. Prior to PL/SQL Release 2.3, you would have had to fetch all data from the cursor, store it in PL/SQL variables (perhaps a PL/SQL table), and then pass those variables as arguments. With cursor variables, you simply pass the reference to that cursor. This improves performance and streamlines your code.
It also means that the cursor is, in effect, shared among the programs which have access to the cursor variable. In a client-server environment, for example, a program on the client side could open and start fetching from the cursor variable, then pass that variable as an argument to a stored procedure on the server. This stored program could then continue fetching and pass control back to the client program to close the cursor. You can also perform the same steps between different stored programs, on the same or different database instances.
NOTE: The client-server aspect of this sharing will only really come into play when the Oracle Developer/2000 tools are converted to use PL/SQL Release 2.3 or above.
This process, shown in Figure 6.2, offers dramatic new possibilities for data sharing and cursor management in PL/SQL programs.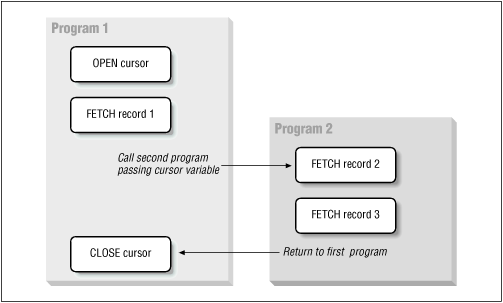 The code you write to take advantage of cursor variables is very similar to that for explicit cursors. The following example declares a cursor type (called a REF CURSOR type) for the company table, then opens, fetches from, and closes the cursor:
DECLARE
   /* Create the cursor type. */
   TYPE company_curtype IS REF CURSOR RETURN company%ROWTYPE;

   /* Declare a cursor variable of that type. */
   company_curvar company_curtype;

   /* Declare a record with same structure as cursor variable. */
   company_rec company%ROWTYPE;
BEGIN
   /* Open the cursor variable, associating with it a SQL statement. */
   OPEN company_curvar FOR SELECT * FROM company;

   /* Fetch from the cursor variable. */
   FETCH company_curvar INTO company_rec;

   /* Close the cursor object associated with variable. */
   CLOSE company_curvar;
END;
That looks an awful lot like explicit cursor operations, except for the following:
The REF CURSOR type declaration

The OPEN FOR syntax which specified the query at the time of the open
While the syntax is very similar, the fact that the cursor variable is a variable opens up many new opportunities in your programs. These are explored in the remainder of this section.